MUNICH AIRPORT (MUC) INFORMATION
Origin
Airline
Flight no.
Scheduled
Est./Actual
Status
No flight arrivals were found at Munich Airport.
Destination
Airline
Flight no.
Scheduled
Est./Actual
Status
No flight departures were found at Munich Airport.
Car Hire at Munich Airport
UNBEATABLE VALUE CAR RENTAL
Free Amendments | Free Cancellations | No Card Fees




Munich Airport - All Information on Munich International Airport (MUC) Munich Airport
Nordallee 25, 85356 Munich, Germany
phone +49 89 975 00
phone+49 89 975 214 70 (Lost + Found)
emailingo.anspach@munich-airport.de
call_end+49 89 975 579 06 (fax)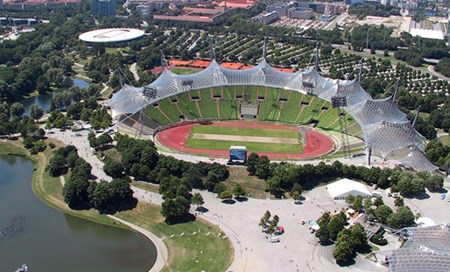 Munich Airport in Germany is one of Europe's busiest and most popular airports. The Bavarian capital attracts hundreds of thousands of tourists every year, who come to see the ancient buildings and art collections, attend the wonderful Christmas market and revel in the Oktober Fest beer festival celebrations.
Munich Airport covers a large number of destinations. Flight arrivals include Warsaw, Düsseldorf, Seoul, Oslo, Sofia, Dresden and Hamburg, Istanbul and Barcelona. The two passenger terminals and the Munich Airport Center provide a large number of services, facilities and amenities for passengers arriving and departing - there are airport tours, a visitor's terrace and an airport souvenir shop for a start, where waiting passengers can while away their time, not to mention the many cafes, bars and restaurants, shops and bakeries!
Terminal 1 consists of modules A, B, C, D and E. The Munich Airport Centre is located at Terminal 1 and can be found on Level 3. Terminal 2 is divided into Pier North, Pier South and a Plaza.
Information Service desks can be found at the Airport Center, where the desk is open 24 hours every day of the year on Level 3. At Terminal 1's departure areas A and D on Level 4 is another Information Desk, also in departure areas B and C on Level 4. These two desks are manned between 5.00 am and 10.00 pm every day.
At Terminal 2 Information Services can be found in the departure area on Level 4 and at the arrivals area on Level 3. Both desks are open from 6.00 am to 10.30 pm daily.
Lounge Services for Lufthansa's Senator and Business class - styled with comfortable seating and modern facilities - are located at Terminal 2. At Terminal 1 passengers will find the lounges of Air France and British Airways, Emirates and two general airport lounges - the Europe and Atlantic lounges.
The latter has exclusive apron views, some 80 seats in two separate lounge areas, a reception service and free internet access workstations, wireless LAN which is free for the first half hour of use, a TV with a wide range of international and domestic channels, a mobile phone recharging station, snacks and beverages, shower facilities, en-suite toilets, a separate smoking area and domestic and international newspapers.
Munich Airport offers a number of excellent hotels with their own free shuttle service in close proximity to the airport complex. The Kempinski Hotel Airport München, Novotel and the Holiday Inn Express for example are close by.
Passengers travelling to and from the airport have a number of transport options available to them. A metro rail link runs via the S1 and S8 from the airport to Munich Central Station and the Ostbahnhof train station. The airport train station can be found underneath Terminal 1 and 2 with an additional stop at the Visitors Area being available, too.
Arrivals, Departures and Airlines at Munich Airport
Transfer and limousine services as well as regular airport taxis are also plentiful. At Terminal 1 there are taxi ranks outside each module as well as outside the Central Area next to the Car Rental Returns area. At Terminal 2 the taxi rank is located opposite modules G and H.
Munich Airport car rentals can be picked up outside Module C at Terminal 1, while the Car Rental Returns area is located opposite Module B at Terminal 1. Among the official car hire providers are Avis, Europcar, Hertz, Sixt and many others. Their hire stations are located in Terminalstraße Mitte just outside the terminal buildings. The car rental stations in the Car Rental Center are open from 6.00 am onwards and close between 11.00 pm and midnight.
Passengers looking for bus connections from the airport will find two bus stops outside Terminal 1 (Modules A/B and D/E) and one opposite Terminal 2 as well as one bus stop located outside the Munich Airport Center. Further bus stops are located along the Administration Building near the Visitors Park and the Vacationers parking lot P4.
City buses link the airport with central Munich, Erding, Freising, Ingolstadt, Landshut, Markt Schwaben, Munich Main Train Station and Schwabing North Station, Munich Trade Fair Center and long distance coach travel is available to Nuremberg and Bamberg, Prag in the Czech Republic, Pfaffenhofen, Regensburg, Salzburg in Austria, Schwaig, Taufkirchen and Wartenberg in Germany.
For more information about Munich Airport, please visit the official airport website at www.munich-airport.de.
Parking at Munich Airport
See options for parking services at Munich Airport.
Hotels near Munich Airport
There are a number of hotels to suit all budgets and requirements at or near Munich Airport.
Additional Services and Amenities at Munich Airport
At Munich Airport you will find the usual array of bars and restaurants, airport lounges and shops.
Things to do in Munich
There are a number of activities to suit all ages and interests in the region - see a selection of tourist activities in Munich, Germany.
Services at Munich Airport
Useful Information about Munich Airport